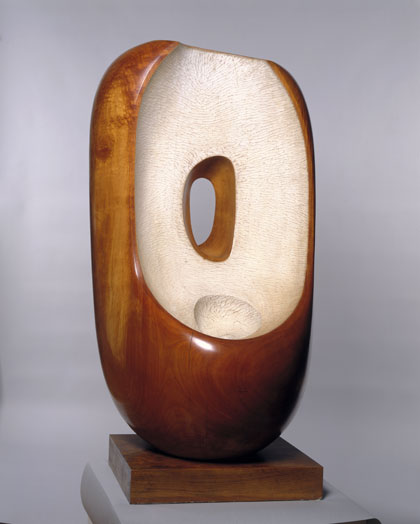 This website has been set up by the Hepworth Estate and is designed to provide information on all aspects of the life and work of the sculptor Barbara Hepworth.
News
A new book, Barbara Hepworth: The Sculptor in the Studio, by Sophie Bowness was published in September 2017. This is the first study devoted to Hepworth's studio in St Ives and the creation of the Barbara Hepworth Museum.
On July 5 2018 Tate St Ives was named Art Fund Museum of the Year, the UK's top museum prize. The gallery's extension opened to the public in October 2017. Designed by Jamie Fobert Architects, this doubles the space for showing works of art. The work of the St Ives modernists is on permanent display for the first time, in the original spaces of the gallery, which opened in 1993.
The Hepworth Wakefield was Art Fund Museum of the Year 2017. It was described as 'a powerful force of energy from the moment it opened in 2011' by the chair of the jury, Stephen Deuchar. In 2016 the gallery founded The Hepworth Prize for Sculpture. The prize was awarded to Helen Marten in 2016 and to Cerith Wyn Evans in 2018.
Click here for more information.
In 2015 the Palais de Danse, Hepworth's second studio in St Ives, was given to Tate by members of the Hepworth family. It is hoped that, following restoration and renovation work, it will be brought back into public use.
In May 2014 the Tate Archive completed cataloguing the Barbara Hepworth archive. Hepworth's papers were deposited there by the Hepworth Estate between 1996 and 2013, and are catalogued in two series, TGA 965 and TGA 20132. The archive contains a very wide range of letters received by Hepworth, largely from 1950 onwards, as well as documentation relating to all aspects of her life and work. In addition, there is material on the early years of the Barbara Hepworth Museum in St Ives (1976-80).
Current and forthcoming exhibitions
Modernism and St Ives, Tate St Ives, opened October 2017 (ongoing)
Barbara Hepworth: artist in society 1948-53, St Albans Museum + Art Gallery, 23 March - 8 September 2019
Barbara Hepworth and Ben Nicholson in the 1930s, Hazlitt Holland-Hibbert, London, 22 May - 12 July 2019
Barbara Hepworth, Musée Rodin, Paris, October 2019 - March 2020

New Art Centre
The New Art Centre at Roche Court, near Salisbury, has works for sale from the Hepworth Estate. For more information visit http://www.sculpture.uk.com
Catalogue Raisonné of Hepworth's sculptures
The Catalogue Raisonné of Hepworth's sculptures is currently being revised for publication under the direction of Dr Sophie Bowness of the Hepworth Estate, to be published by Modern Art Press. more...
Copyright requests
Copyright permission for reproduction of Hepworth's works and quotation from her writings must be obtained from ((sophie (at) barbarahepworth.org.uk))
Please note that digital images cannot be supplied.