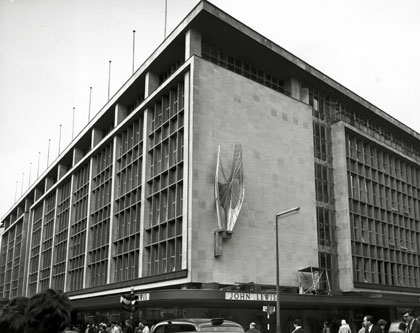 This website has been set up by the Hepworth Estate and is designed to provide information on all aspects of the life and work of the sculptor Barbara Hepworth.
News
The Barbara Hepworth Museum in St Ives opened on 10 April 1976 and to mark the fortieth anniversary a new composition by Leo Geyer, Guarea, was premiered there on 9 April 2016. Written for solo violin, it was inspired by three guarea wood carvings of the 1950s, Delos, Corinthos and Delphi http://www.leogeyer.co.uk
The Hepworth Prize for Sculpture, founded in 2016 by The Hepworth Wakefield, was awarded to Helen Marten.
A major retrospective of Hepworth's work was held at Tate Britain in 2015, Barbara Hepworth: Sculpture for a Modern World, the first in London since 1968. It toured to the Kröller-Müller Museum, Otterlo, the Netherlands, and the Arp Museum, Rolandseck, Germany (closed August 2016). The exhibition catalogue, edited by Penelope Curtis and Chris Stephens, contains new scholarship and is richly illustrated. Barbara Hepworth: Writings and Conversations, edited by Sophie Bowness (Tate Publishing), accompanied the exhibition and brings together her published writings with unpublished texts, selected interviews and broadcasts. Hepworth's paintings and drawings are the subject of an important new book by Alan Wilkinson, The Drawings of Barbara Hepworth (Lund Humphries).
In May 2014 the Tate Archive completed cataloguing the Barbara Hepworth archive. Hepworth's papers were deposited there by the Hepworth Estate between 1996 and 2013, and are catalogued in two series, TGA 965 and TGA 20132. The archive contains a very wide range of letters received by Hepworth, largely from 1950 onwards, as well as documentation relating to all aspects of her life and work. In addition, there is material on the early years of the Barbara Hepworth Museum in St Ives (1976-80).
The Hepworth Wakefield opened in May 2011 in the city where Hepworth was born and grew up. A book about the collection, Barbara Hepworth: The Plasters, was published to coincide with the opening.
Click here for more information.
Current and forthcoming exhibitions
Disobedient Bodies: J.W. Anderson curates The Hepworth Wakefield, The Hepworth Wakefield, 18 March - 14 June 2017.

New Art Centre
The New Art Centre at Roche Court, near Salisbury, handles works for sale from the Hepworth Estate. For more information visit http://www.sculpture.uk.com
Catalogue Raisonné of Hepworth's sculptures
The Catalogue Raisonné of Hepworth's sculptures is currently being revised for publication under the direction of Dr Sophie Bowness of the Hepworth Estate. more...
Copyright requests
Copyright permission for reproduction of Hepworth's works and quotation from her writings must be obtained from ((sophie (at) barbarahepworth.org.uk))
Please note that digital images cannot be supplied.