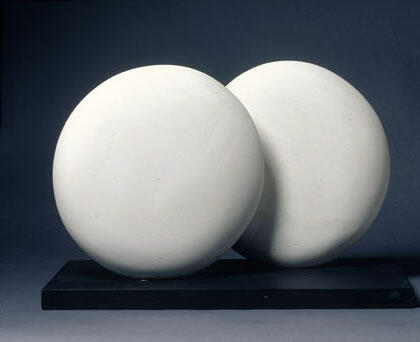 This website has been set up by the Hepworth Estate and is designed to provide information on all aspects of the life and work of the sculptor Barbara Hepworth.
News
The exhibition 'Barbara Hepworth in the Rijksmuseum Gardens' is on show in Amsterdam from 3 June until 23 October 2022. Nine major works, including two late multi-part group sculptures, Conversation with Magic Stones and three figures from The Family of Man, can be seen in the gardens that surround the museum. Five of the works are shown for the first time in the Netherlands. A number have seldom moved from their public sites in the UK, for example Monolith (Empyrean) and Single Form (Memorial) from Kenwood and Battersea Park respectively.
The exhibition 'Barbara Hepworth: Art and Life', which originated at The Hepworth Wakefield (closed February 2022), is on show at the Scottish National Gallery of Modern Art, Edinburgh, from 9 April - 2 October 2022 and will then be seen at Tate St Ives (26 November 2022 - 1 May 2023). It is accompanied by a new book on Hepworth written by curator Eleanor Clayton and published by Thames & Hudson. Google Arts & Culture have a new site in collaboration with the gallery: https://artsandculture.google.com/project/barbara-hepworth
The Festival of Britain sculpture, Turning Forms (1950-51), has undergone major conservation work. During 2021, the 70th anniversary of the Festival, it was on show at The Hepworth Wakefield and was reunited there with Contrapuntal Forms, also commissioned for the Festival. A laser scan has been made of the newly-conserved sculpture showing Turning Forms making a full rotation over a two minute period, as it originally did when exhibited on the South Bank. This has been made by Nic Clear and Hyun Jun Park of the University of Huddersfield. Click here for more information.
A new film, 'Hepworth' (Unity House, 2021), can be seen on Sky Arts.
A Blue Plaque was unveiled in October 2020 on the London studio-flat where Barbara Hepworth and her first husband John Skeaping lived and worked in 1927, 24 St Ann's Terrace, St John's Wood. The two young artists held their first exhibition there and Hepworth carved her first mature works during this year.
The Palais de Danse, Barbara Hepworth's second studio in St Ives, Cornwall, was given listed status in May 2020. The Palais was given to Tate by members of the Hepworth family in 2015. It is hoped that, following restoration and renovation work, the Palais will be brought back into public use.
September 2019 marked the 70th anniversary of Hepworth's acquisition of Trewyn Studio in St Ives, now the Barbara Hepworth Museum. She was to work here from 1949 until her death in 1975. Trewyn was also her home for 25 years. Barbara Hepworth: The Sculptor in the Studio by Sophie Bowness was published in 2017. It is the first study devoted to Hepworth's studio in St Ives and the creation of the Barbara Hepworth Museum.
Barbara Hepworth: artist in society 1948-53 was on view at the St Albans Museum + Gallery until September 2019. This exhibition focused on a significant period in her work at the mid-point of her career. A particular connection was formed between Hepworth and Hertfordshire in these years. Three works were sited in schools and colleges in St Albans and Hatfield as part of the county's pioneering schools art programme. After a decade preoccupied with landscape, Hepworth returned to the human form in the later 1940s, and her work is characterised by a fascination with female/male dualities and their resolution through combination in a single form or in two related ones. The exhibition included a group of the celebrated hospital drawings, and the three parts of Hepworth's Unknown Political Prisoner competition entry, reunited for the first time for 25 years.
In July 2018 Tate St Ives was named Art Fund Museum of the Year, the UK's top museum prize. The gallery's extension opened to the public in October 2017. Designed by Jamie Fobert Architects, this doubles the space for showing works of art. The work of the St Ives modernists is on permanent display for the first time, in the original spaces of the gallery, which opened in 1993.
In May 2014 the Tate Archive completed cataloguing the Barbara Hepworth archive. Hepworth's papers were deposited there by the Hepworth Estate between 1996 and 2013, and are catalogued in two series, TGA 965 and TGA 20132. The archive contains a very wide range of letters received by Hepworth, largely from 1950 onwards, as well as documentation relating to all aspects of her life and work. In addition, there is material on the early years of the Barbara Hepworth Museum in St Ives (1976-80).
Current and forthcoming exhibitions
Barbara Hepworth: Art and Life, Scottish National Gallery of Modern Art, Edinburgh, 9 April - 2 October 2022, and Tate St Ives, 26 November 2022 - 1 May 2023
Barbara Hepworth in the Rijksmuseum Gardens, Rijksmuseum, Amsterdam, 3 June - 23 October 2022
Barbara Hepworth, Heide Museum of Modern Art, Melbourne, Australia, 5 November 2022 - 13 March 2023
Modern Conversations, Tate St Ives, long-term display from May 2021

New Art Centre
The New Art Centre at Roche Court, near Salisbury, has works for sale from the Hepworth Estate from time to time. For more information visit https://www.sculpture.uk.com
Catalogues Raisonnés of Hepworth's sculptures and drawings
The Catalogue Raisonné of Hepworth's sculptures is currently being revised for publication under the direction of Dr Sophie Bowness of the Hepworth Estate, to be published by Modern Art Press. The paintings and drawings are also in preparation with MAP more...
Copyright requests
Copyright permission for reproduction of Hepworth's works and quotation from her writings must be obtained from ((sophie (at) barbarahepworth.org.uk))
Please note that digital images cannot be supplied.