Turning Forms
Turning Forms
(1950-51, reinforced concrete, with a Snowcrete and Snowcem finish, 213 cm in height), was a direct contract from the Festival of Britain authorities. Originally motor-driven and turning at one revolution every two minutes, it was commissioned for the Thameside Restaurant designed by the architect Jane Drew of the firm Maxwell Fry & Jane Drew. When the Festival closed,
Turning Forms
was given to Hertfordshire County Education Authority and sited at St Julian's School, St Albans, in 1952 (now the Marlborough Science Academy). From October 2020 - May 2021, a major conservation project, led by Tessa Jackson, took place. New research has established the materials and methods employed by Hepworth.
Turning Forms
was shown at The Hepworth Wakefield from May to November 2021, when it returned to St Albans. A laser scan was made of the newly-conserved sculpture showing
Turning Forms
making a full rotation over a two minute period, as it originally did when exhibited on the South Bank (see below). This was made by Nic Clear and Hyun Jun Park of the University of Huddersfield.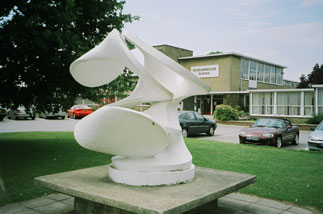 Turning Forms at Marlborough Science Academy, St Albans