Contrapuntal Forms
Hepworth's first public commissions were for the Festival of Britain.
Contrapuntal Forms
(1950–51, Irish blue limestone, 120 inches in height) was commissioned by the Arts Council to stand on the South Bank during the Festival. Hepworth carved the two monumental figures in Irish blue limestone with the help of assistants she took on for the first time, Denis Mitchell, John Wells and Terry Frost. In 1953 the Arts Council presented
Contrapuntal Forms
to the new town of Harlow in Essex. It is sited at Glebelands in Harlow. From May to November 2021, it is on loan to The Hepworth Wakefield.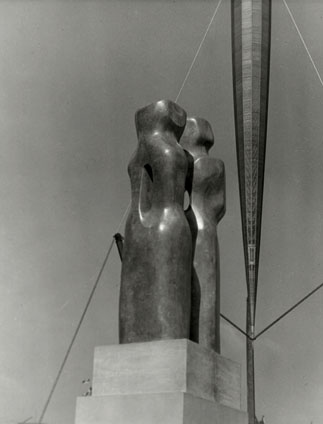 Contrapuntal Forms on London's South Bank during the Festival of Britain, 1951